IN THIS POST:
Birthday!
First fight of the legacy!
A special appearance by Dabu!
and other stuff.
(
follow me to a land of pure SIMagination...
Collapse
)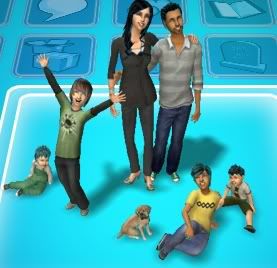 I give up on making little teaser graphics, in case you haven't noticed. So have a family photo instead!
(
blahblah it's a cut
Collapse
)
Last time, Julius grew up, Henry VIII was born, Cleo got caught cheatin', had a bad blind date, Marcel knocked many garbage over, and Ptolemy continues to be stupid. Remember now? Good. CARRY ON.
(
the psycho invites you in....
Collapse
)
yey we're back. Last time, Red got engaged, pregnant, left her fiance at the altar, and psycho ensued. THEN he moved out, got married to another dude, pregnant and... things were ok :D
Current Mood:

tired