Last time, Julius grew up, Henry VIII was born, Cleo got caught cheatin', had a bad blind date, Marcel knocked many garbage over, and Ptolemy continues to be stupid. Remember now? Good. CARRY ON.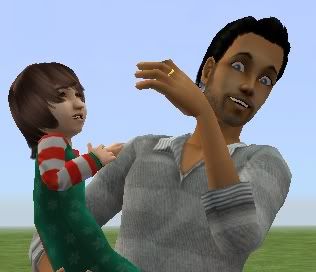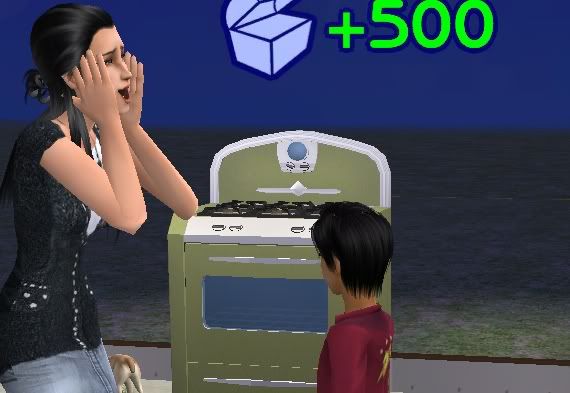 "HAHA SON YOUR JOKES ARE HILARIOUS. Now go to bed..."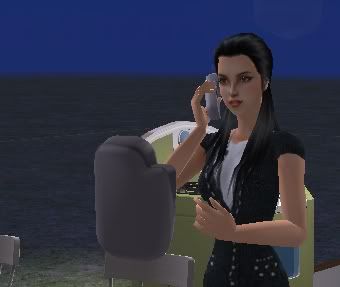 "...so I can invite my man-friend over."
She was given a mini-makeover for this occasion.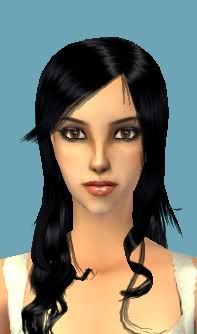 "BET YER SORRY YOU WERE SUCH AN ASS NOW THAT I'M ALL HOT, MARCEL"
but he wasn't. spoiler alert.
Anyway, Nawwaf came over. They wasted no time getting reacquainted
whores.
IN CASE YOU WERE WONDERING? Ptolemy still eats stuff he shouldn't, despite the fact that his food bowl is kept well stocked.
I moved Nawwaf in. He only brought 2000$, but he's got a good job (Medical Researcher = about 2,000$ a day), so I forgave him. I immediately gave him a makeover and bought him some new clothes, because ew.
Not bad, Nawwaf. Not bad. (omg I need more male hair, though)
Cleo was enjoying having a man around the house to help out, so she had time to relax.
Oh, Julius. You are a truly lovely child, aren't you?
Classy as always, Cleo accepts a delivery in her underwear. She walks around like that all day if left to her own devices.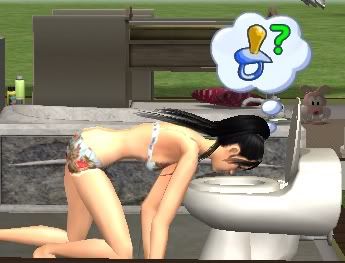 Yes, again.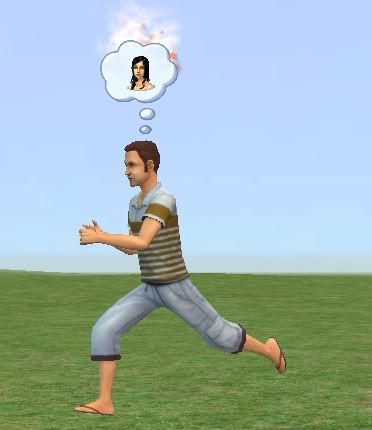 Cleo, something tells me Marcel doesn't give a crap about your make over. :\ Sorry.
(he is stealing the paper. but it's invisible. idk why.)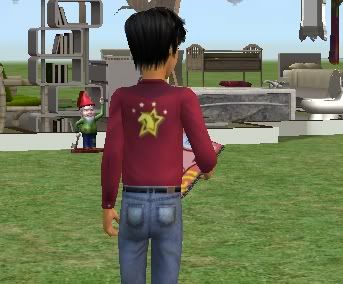 Julius clearly inherited his dad's fashion sense (I swear Nawwaf was originally wearing a grown up version of that SAME SHIRT), so it was time to do some shopping.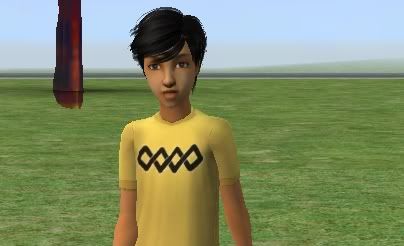 Much better, kiddo.
THEN it was time for Henry VIII's birthday!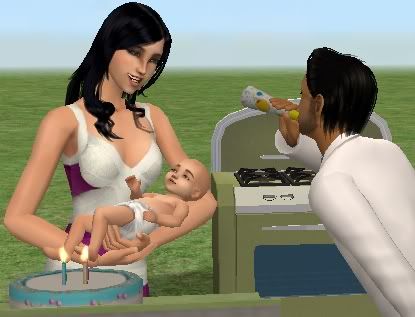 *crosses fingers*
YAY! Another pretty decent looking kid. Nice genes, Professor.
I thought about stopping there but I didn't. SO THERE'S MORE PICS.

All seven of those in the que are the same - walk away. So he walked back and forth in a little circle seven times. JULIUS R SMRT OK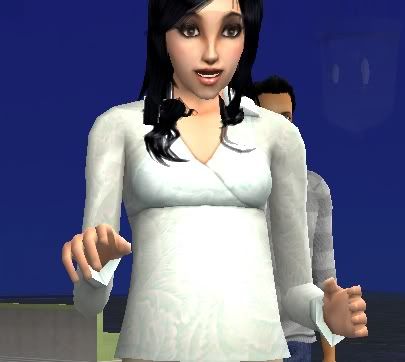 POP!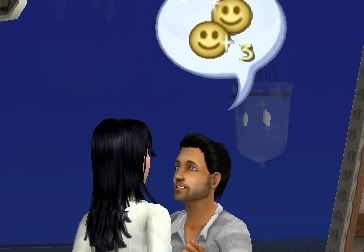 "Congrats on having 3 BFFs, even though you cheated on me with one :D "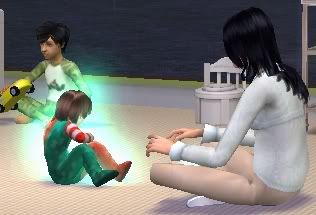 so while Cleo was teaching Henry some life skills, my game had a glitch that was HORROR MOVIE WORTHY
WTF I DON'T EVEN...
fortunately, once he was done going potty (IN HER BELLY O_O), it fixed itself. But that was freaky.
Charming as ever, Marcel.
That one blonde guy she had a bad date with sent Cleo some hate mail. I've never had that happen before. let's see what it said!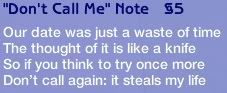 Ouch. Tell us how you
really
feel.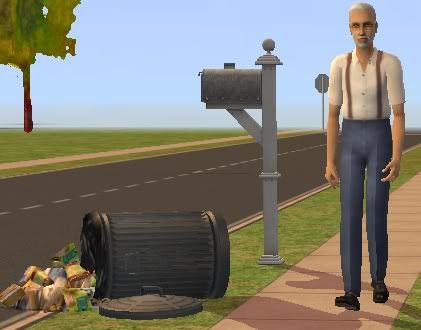 So then this guy decided to follow in Marcel's footsteps and knock over the garbage can, cause Cleo spied on him through the telescope (that I found in Nawwaf's inventory, along with a piano and some other stuff. I kept the telescope and the piano. The rest I sold.)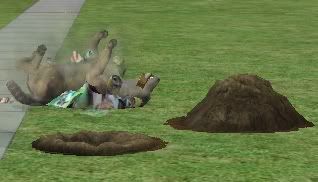 This dog really appreciated the garbage, even if I didn't
He did not, however, appreciate Cleo's taste in music.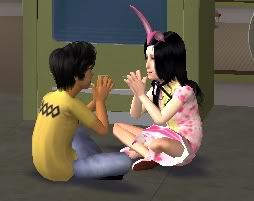 Julius brought SweetPotato Pie (spawn from an abandoned legacy family) home from school. They got along pretty well :D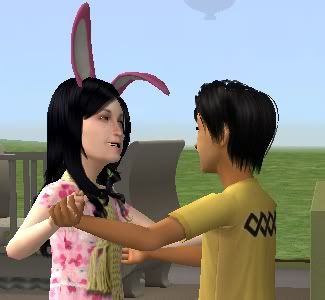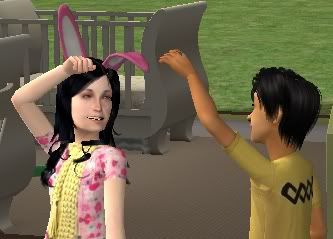 Little kids classic-dancing is officially one of the cutest things ever btw.
Thanks, Nawwaf. That was really helpful of you.
Despite his stupidity, I finally let Cleo go through with a want that had been sitting there for about ten million years.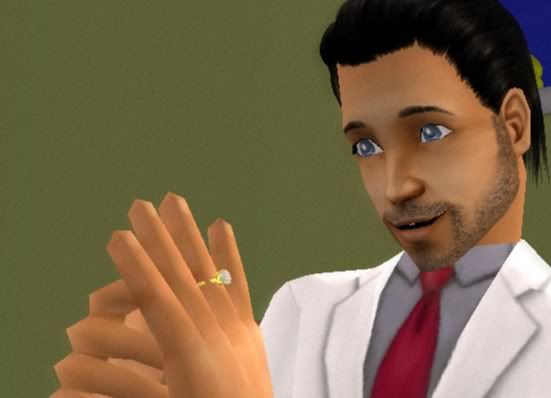 He said yes, obviously.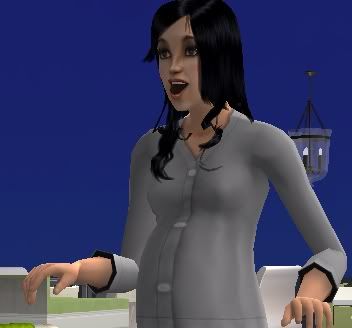 POP!
And now for a rare moment where they all sit down to eat together (minus Henry, who was off playing with blocks or something and racking up skill points)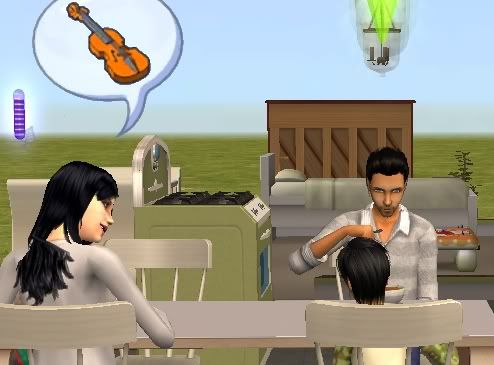 Cleo> Maybe someday we'll enroll you in violin lessons and you can become a famous composer!
Julius> Uh, violins are ok, Mom, but I'd rather stay home and chase bugs.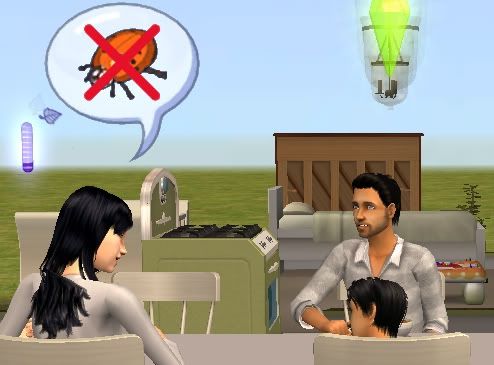 Cleo> Bugs suck.
Julius> You are dead to me.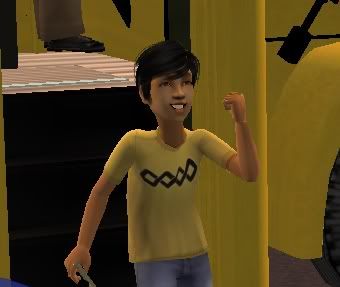 WOO! A+
GUESS WHY THIS HAPPENED. JUST GUESS.
Because all those knocked over cans gave them bugs. THANKS MARCEL ILU 2. -_-
A culinary genius he is not.
That old guy came by and poked Cleo a few times for spying on him again.
oh, dramatize.
After the nanny's shift was over (it was just easier to keep her there even though they both stayed home from work, cause their levels were crazy, him being sick and her being preggo), this popped up
Another thing I've never had happen. I SAID NO. There was too much other stuff goin on, sorry, bish. Like, for instance, Nawwaf trying to cough up a lung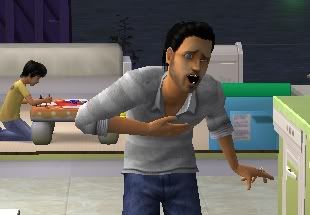 On multiple occasions.
and, oh yeah, it was BABY TIME!!!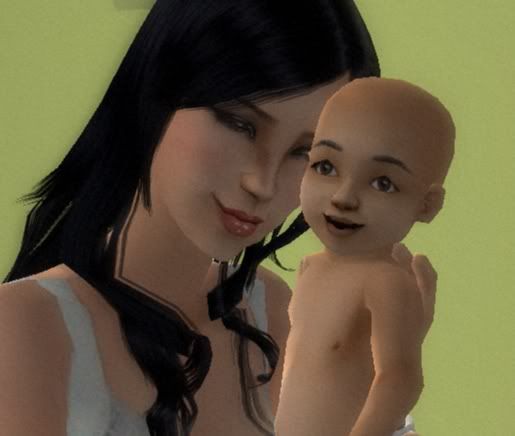 Yet another boy - Ivan (the Terrible). Woo!
oh but wait...
Cleo's not done yet.
ANOTHER boy! Alexander (the Great)
What a surprise! (lol jk i sort of used forcetwins >_> SHHHH)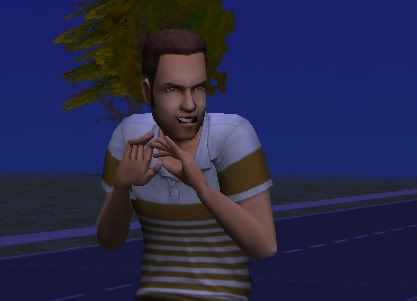 OH GET OVER YOURSELF MARCEL. This is approaching ridiculous.
Cleo really wanted to marry Nawwaf, so while the twins (who both should've been named The Terrible, JSYK, they never shut up ): ) were napping, I got them dressed up and had her propose marriage.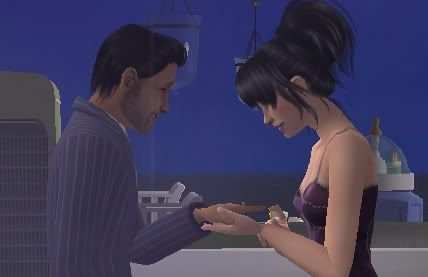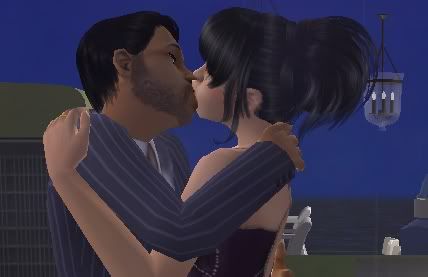 Nawwaf> Happy wedding day, sweetheart, ILU so much that I want to give you something very special...
Fanks, Nawwaf. I'm sure she really appreciates that.
Cleo is obsessed with this thing.
FINALLY, after about seven years of maternity leave, Cleo goes back to work.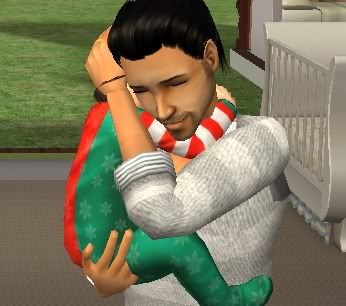 They might not be blood-related, but Henry and Nawwaf totally hart each other.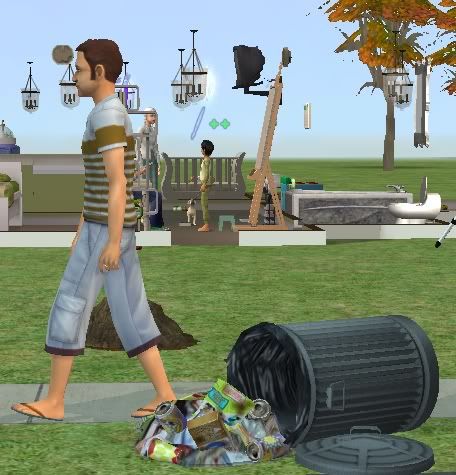 Ugh, Marcel.
I sent Nawwaf to clean that up, and I also had him patch up that hole that has been there since they moved in. I got tired of looking at it.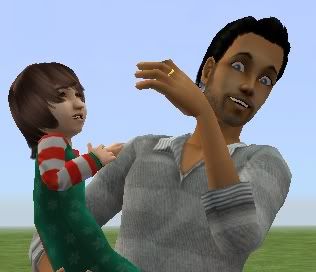 I know he looks like a psycho serial killer and Henry looks frightened, but really he's only tickling Henry. It's ok.
Marcel wasted no time in coming back by to knock the garbage back over.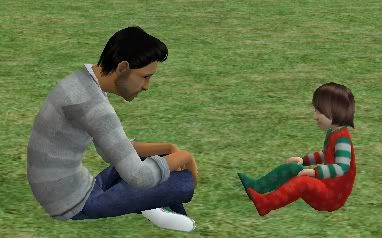 Nawwaf cleaned it up, and continued to play with Henry. Two seconds later...
Ugh.
Julius invited SweetPotato over and they hung out for a while, and Cleo got a promotion wooo! Then it was birthday time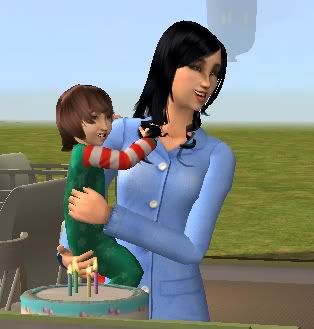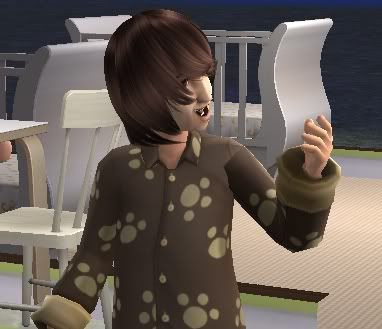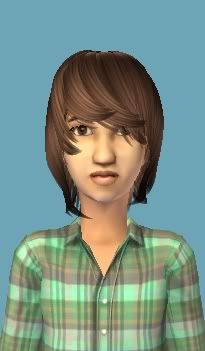 Nice.
WELL I was going to quit playing there, but I wanted to see how the twins turned out, so I didn't.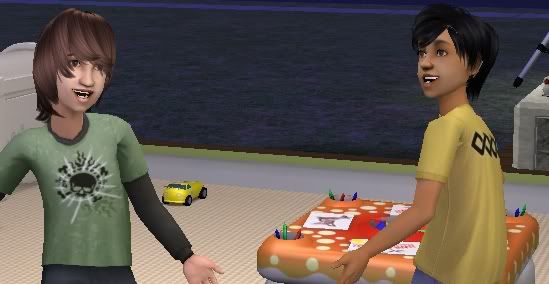 LOOKIT DEM GOOD LOOKIN SIM KIDS. I'm pleased with the genes this generation.
Cleo has not forgotten how that old guy got all up in her grill. Girl knows how to hold a grudge.
So does someone else I know.
WELL I HAD HAD ENOUGH OF THIS GARBAGE TERRORISM, so I made Cleo go talk to him.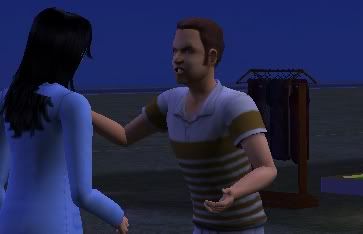 They argued.
Ventrillo-fart? Real classy, Marcel. Cleo looks pissed but...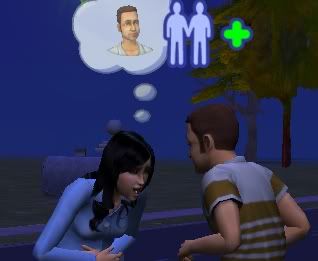 She thought it was hilarious /)_o I sent him home after that. COULD NOT TAKE THE DUMBASSERY SORRY.
The obsession continues.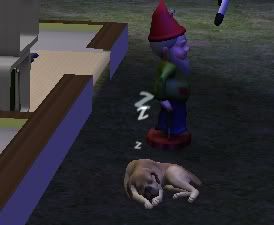 It amused me that Ptolemy (yeah he's still alive, btw) was cuddled up to the garden gnome.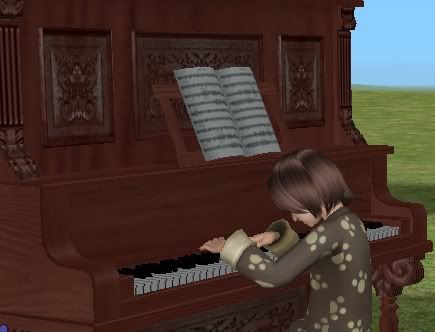 Henry already has like 7 creative skill points. Kid is a musical prodigy.
You are the one who wants to marry off six of these, Cleo, not me.
They sat here and played dolls for like five hours.
THEN IT WAS BIRTHDAY TIME FOR THE TWINNNS!!!

oh no, the suspense. what will they look like aaaaaaaaaaahhhhhhhhh!
well. turns out I forgot to take a cap of their toddler selves. OOPS. so you'll have to wait till next time. MAH BAD.
</div>